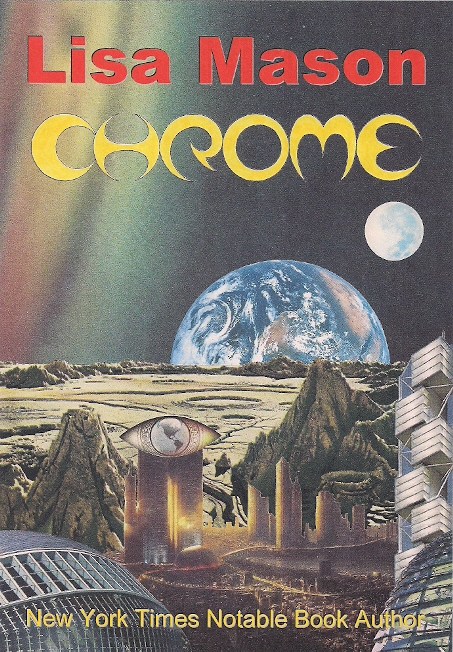 From New York Times Notable Book Author Lisa Mason
CHROME
Two hundred fifty years ago, a purveyor of poisons and the creator of genetically modified organisms—Emirk Corporation—launched into the Moon's orbit around the Earth an artificial planetoid called CHROME.
There, Emirk technicians created races of human beings blended with the genes of animals. They were called Blends.
Now Luna Lightfoot—half puma, half woman, jewel thief—inadvertently hears a confidential conversation and witnesses a murder. She teams up with Terralina Rustabrin—half tortoise, half woman, bond-promised to a tortoise prince—and discovers a murderous scheme to change the lives of Chromians. A chameleon mercenary and an insane mastermind lurk behind the scheme.
Lisa Mason has published eleven novels, including Summer of Love (a Philip K. Dick Award Finalist), The Gilded Age (a New York Times Notable Book), Arachne (a Locus Hardcover Bestseller), Cyberweb (the sequel to Arachne), The Garden of Abracadabra ("Fun and enjoyable Urban Fantasy"), Celestial Girl (A Lily Modjeska Mystery), One Day in the Life of Alexa ("An appealing narrator and subtly powerful emotional rhythms"), Strange Ladies: 7 Stories ("A must-read collection"), and forty stories and novelettes in magazines and anthologies worldwide.
But you knew that!
Look for the ebook on US Kindle, Barnes and Noble, Smashwords, Apple, Kobo.
Also on UK Kindle, Canada Kindle, Australia Kindle, India Kindle, Germany Kindle, France Kindle, Spain Kindle, Italy Kindle, Netherlands Kindle, Japan Kindle, Brazil Kindle, and Mexico Kindle.
Look! The jacket flat came in! And now CHROME is in U.S. print as a beautiful trade paperback. Also in U.K. print, in German print, in French print, in Spanish print, in Italian print, and in Japanese print.
Join me on my Patreon page at https://www.patreon.com/bePatron?u=23011206.
Donate from your PayPal account to lisasmason@aol.com
Your participation really matters!
Lisa Mason, the Fantasy and Science Fiction Author
Books by Lisa Mason
Stories, Novelettes, Screenplays by Lisa Mason
Interviews, Reviews, Storybundles, Blogs, Next Thing
Art, Jewelry, and Mobiles by Tom Robinson
Cats, Past and Present
All content copyright 2000-2019 by Lisa Mason. All artwork copyright 2000-2019 by Tom Robinson.
Comments, questions, serious offers, lavish praise?
Contact Lisa Mason. All rights reserved.
For rights, publicity inquiries, and direct sales please go to The Media Room.
Booksellers, Bookstores, Librarians, Libraries, and Book Distributors, please go to the Certified Reseller's Page.