Welcome to Lisa Mason's Library!
Yes, we're excited! New science fiction, urban fantasy, romantic suspense, and a memoir have been published and new books and stories are on the way. All worldwide links and all readers are in place for all titles. Life in the San Francisco Bay Area in 2016 is super awesome!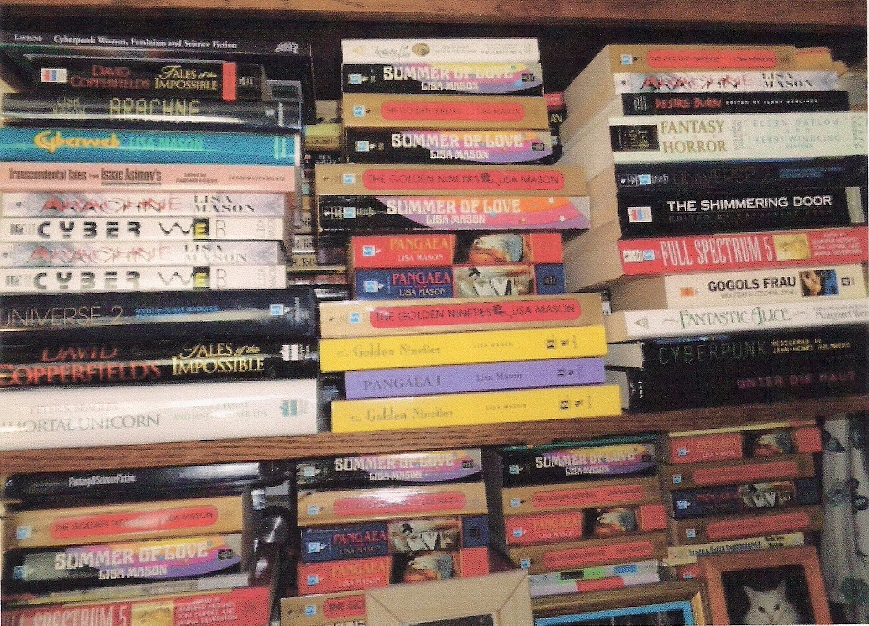 Next Up! My story, "Anything For You," will be published in the September-October 2016 issue of The Magazine of Fantasy and Science Fiction.
Breaking News! Right before Thanksgiving 2015, I sold "Anything For You" to C.C. Finlay, the new editor of The Magazine of Fantasy and Science Fiction.
Brand New Book! Time Travels to San Francisco! We were so pleased to participate in the wonderful StoryBundle Time Travel Bundle with twelve other authors that we wanted to present our own Time Travel Bundle, a boxed set of Summer of Love and The Gilded Age. All links worldwide on Amazon.com, Barnes and Noble, Smashwords, Apple, and Kobo.
Breaking News! "Tomorrow Is A Lovely Day," at 7,500 words, is in the November-December 2015 Magazine of Fantasy and Science Fiction. Check it out for the stories, the reviews, the cover! I've posted a new interview, too!
New Reviews! Steve Fahnestalk, who has written a hundred reviews for Amazing Stories, reviewed Summer of Love. Wow! Check it out! We're posting two additional reviews, one by Locus Magazine and another by award-winning author Lewis Shiner.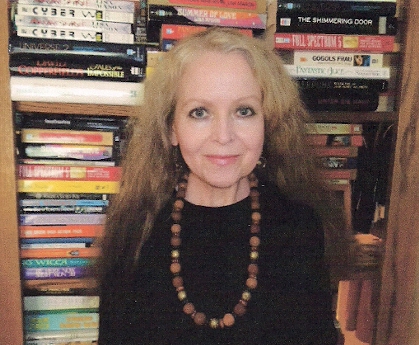 News! I have been chosen to serve as a judge for the 2016 Philip K. Dick Award for distinguished science fiction published in paperback original format in the United States in 2015. The ballot has been announced; the winner and special citation will be announced March 25, 2016.
New Story News: "Teardrop," was published in May-June 2015 issue of The Magazine of Fantasy and Science Fiction. On your newsstand May 5! This is one of the oldest, most respected short fiction markets and I'm proud and honored to become a part of it again. F&SF also interviewed me about the story. Check it out!
Bast Books is pleased to present My Charlotte: Patty's Story, a short, sweet memoir about a life in a garden and this writer's first inspiration. The ebook includes my first story, Arachne, published by Omni Magazine worldwide, by Hayakawa in Japan, and by Replik in Sweden. On all readers worldwide.
I'm excited to tell you Strange Ladies: 7 Stories, my collection of science fiction, fantasy, and horror short fiction previously published in top magazines and anthologies, is up and running. Five-star pro and reader reviews. I've wanted a story collection for a long time. At last it's here! The Book Brothers Review Blog says in a five-star review, "Lisa Mason might just be the female Philip K. Dick."
My passionate historical romantic suspense, Celestial Girl (A Lily Modjeska Mystery) has launched with a five-star review. Read all four books in the miniseries in The Omnibus Edition or try the miniseries in three installments: Celestial Girl, Book 1: The Heartland, Celestial Girl, Book 2: Jewel of the Golden West, Celestial Girl, Book 3: The Celestial Kingdom, and Celestial Girl, Book 4: Terminus.
My big new urban fantasy, The Garden of Abracadabra, Volume 1 of the Abracadabra Series, has also launched worldwide. You may also wish to try Volume 1 in three affordable installments. We've got exciting new covers for Volume 1 and the three installments. The Labyrinth of Illusions, Volume 2 of the Abracadabra Series, will be published in Winter 2017.
Starting February 21, 2016, I'll post an excerpt of The Garden of Abracadabra starting at page 1 and going all the way through to page 420 for free on Lisa Mason's Blog. I'll be posting other stuff on the blog, too, since I'm gearing up for The Story Collection Storybundle. But you can enjoy The Garden of Abracadabra for free, buy the book at the links provided, or donate if and when you wish at https://www.paypal.com/paypalme/lisamasonthewriter/
My long-running science fiction bestseller Summer of Love, A Time Travel is published worldwide on all retailers and for all readers. Go to Summer of Love for a synopsis, five-star reviews, and the amazing, hand-drawn cover by acclaimed San Francisco artist, Tom Robinson. New! I've added the complete review by fantasy author Charles De Lint in the Magazine of Fantasy and Science Fiction.
The Gilded Age, A Time Travel, a New York Times Notable Book, a New York Public Library Recommended Book, and the sequel to Summer of Love, A Time Travel is published worldwide on all retailers and for all readers. Go to The Gilded Age for a synopsis, five-star reviews, and another amazing hand-drawn cover by Tom Robinson.
We're offering as ebooks novelettes and novellas published in magazines and hardcover anthologies. The magazines have come and gone, the anthologies are out of print, but the work lives on. I worked hard writing these titles, so I'm excited to see them available to readers again.
Shaken is a sexy science fiction thriller about the next Big Earthquake in San Francisco and one woman who meets a mysterious man and discovers dark secrets behind the catastrophe. Think "The Net" meets "Conspiracy Theory." This was published in Asimov's Science Fiction Magazine and worldwide. Tomorrow's Child was published in Omni Magazine and sold outright to Universal Pictures. You can't find this story anywhere but here. The ebook includes "The Story Behind the Story That Sold to the Movies," my thirty-day blog describing the twists and turns the project took from inception to movie deal. Hummers was chosen for The Year's Best Fantasy and Horror 5th Annual Collection (St. Martin's Press).
More exciting short titles include Every Mystery Unexplained, published in David Copperfield's Tales of the Impossible (HarperPrism) with a new review from a book blogger, Daughter of the Tao, published in Peter S. Beagle's Immortal Unicorn (HarperPrism), and The Sixty-third Anniversary of Hysteria, published in Full Spectrum 5 (Bantam).
Brand-new cover, thanks to artist Tom Robinson! Filmmakers and screenwriters take note! Tesla is published on all retailers for all readers worldwide. This project took a solid year of research and writing and got read by the producers of "Aliens," "The Abyss," and "The Hulk". "Fabulous screenplay," says Lewis Shiner, award-winning author of Glimpses.
For something fast, funny, and five-star, check out U F uh-O. I wrote a screenplay for a producer looking for a science fiction comedy like "Men in Black" or "Galaxy Quest," then rewrote the screenplay as a novella. Five stars! New cover!
My affiliate, Suzanna Moore, has published a passionate New Adult paranormal dark romance, Eon's Kiss (Book 1 of the Eon Trilogy). This is not the usual formula romance, but a tale filled with joy, sensuality, tragedy, and magic with serious things to say about environmentalism and urban development, and a twist you won't see coming at the end.
Brand new! Meet Athena, our new Angora-Lilac-point-Siamese mix who is so wonderful, beautiful, and smart!
Visit Alana for the story of my beautiful Turkish Angora cat rescued from an animal shelter. The pet-baby love of my life!
Visit Luna for the story of my beautiful blue mink Tonkinese cat, another pet-baby love and Alana's best friend.
Lately I've been chatting with authors and interviewers. See the Time Travel Blogs 1 through 3 with Author Laura Vosika and the Time Travel Blogs 4 and 5. Check out Chats about Writing with Author Ryan Schneider Part One and Part Two, plus my interviews with Write Castles in the Sky and Festivale.
New Interview! On September 30, 2014, I chatted with Ronovan on his wonderful blog Lit World Interviews. Here's mine.
Bast Books publishes our ebooks. Bast Collectible Books also offers signed first editions and rare books.
Go to Books for my novels published by Big Publishers. Visit Author's Bio for the story of my writing life. Go to Stories for titles and provenance of stories published up till now in magazines and anthologies worldwide.
Check out The Next Thing for forthcoming books, including The Labyrinth of Illusions, Volume 2 of the Abracadabra Series, and more.
We're delighted to add Jewelry by Tom Robinson and Art by Tom Robinson. Tom is selling amazing works in the San Francisco Bay Area. If you live here or live near or are visiting from afar, you must check out these destination neighborhoods and the galleries carrying Tom's work. New! The delightful Dancer Earrings sold at the Macchiarini Gallery. Tom is working on another pair with a multimetal look.
Brand-new! "Zephyr" (Blue Beauty), a new artwork by Tom Robinson is up for your viewing pleasure at Art by Tom Robinson.
It's that time of year again. The Fitness Blogs are up and running! We three authors have very different ideas about diet and exercise. Check them out at Keep Fit, Keep Writing: A Roundtable with Kevin J. Anderson, Lisa Mason and Linda Nagata (Part 1: Move It!) and Keep Fit, Keep Writing: A Roundtable with Kevin J. Anderson, Lisa Mason and Linda Nagata (Part 2: Chow Down!).
The Philip K. Dick Award Storybundle expired on October 15, 2015. The bestseller of the year at Storybundle.com! Do I have more Storybundles up my sleeve? Don't be silly. Of course I do. The Story Collection Storybundle will run from May 11 through June 11!
If you enjoy a work, please "Like" it, add five stars, write a review on the site where you acquired it, blog it, Tweet it, post it, and share the word with your family and friends.
Your participation really matters.
Thank you for your readership!
For discussions about writing and publishing, book reviews I've written for Goodreads, movie reviews, interviews, stories, and more, visit me at Lisa Mason's Blog and leave a Like or a comment.
Subscribe to my New Book Newsletter today! I'll only send you an email about important developments. You can unsubscribe anytime.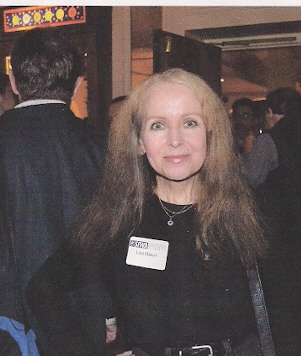 Lisa Mason, October 6, 2014
The Manhattan Penthouse, New York City
Photo by Kate Baker for Science Fiction and Fantasy Writers of America
All content copyright 2000-2016 by Lisa Mason. All artwork copyright 2000-2016 by Tom Robinson.
Comments, questions, serious offers, lavish praise?
Contact Lisa Mason. All rights reserved.