Art by Tom Robinson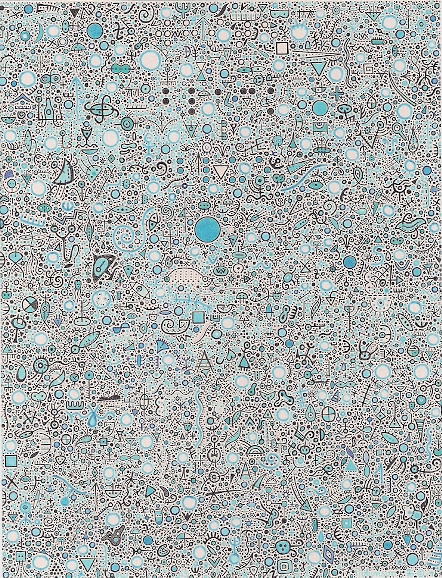 "Blue Beauty", Painted Drawing (Sketch for "Zephyr")
4.25" X 5.50" Strathmore "Elements" paper
Acrylic, Ballpoint Ink, Colored Pencil, Pencil
$ 1,700.00 unframed (or best offer), free shipping and handling
To inquiry or purchase, please see below or go to The Media Room.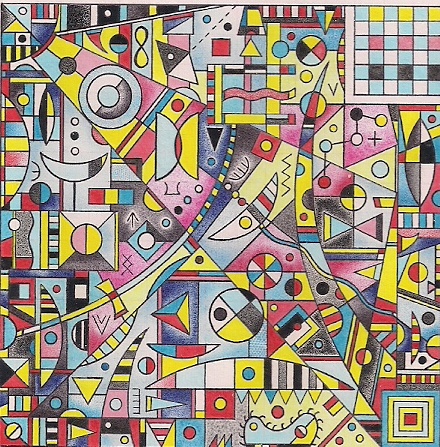 Copyright 2000--2018 by Tom Robinson
Tom Robinson is renown in the San Francisco Bay Area for his exuberant, detailed, finely crafted abstract expressionist art deeply informed by his formal study of, and love for, abstract art.
He is very involved in new jewelry and sculpture projects.

Tom will, however, consider requests for commissioned art. He works in pen-and-ink, colored pencil, watercolor, and other media. His works tend to be small, with dimensions as diminutive as five-by-eight inches up to twelve-by-twelve inches, though he has been known to work in large formats.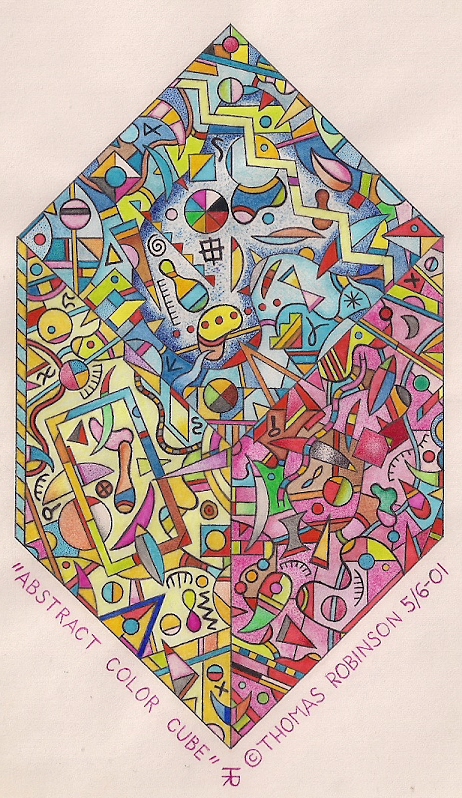 Copyright 2000--2018 by Tom Robinson
If you have a house or condominium with limited wall space, Tom Robinson art is for you! Tom will consider special requests for your desired color scheme.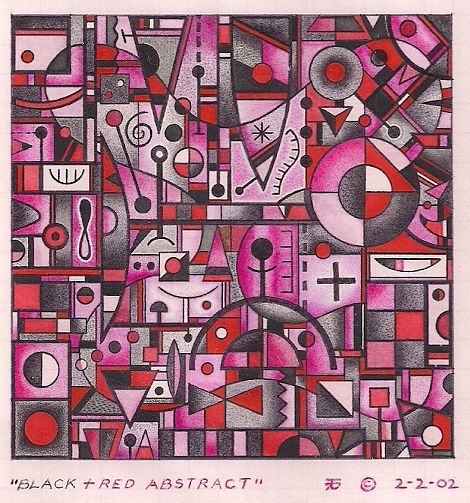 Copyright 2000--2018 by Tom Robinson
The graphics on this page are sample sketches of the kind of art for which he is known and acclaimed.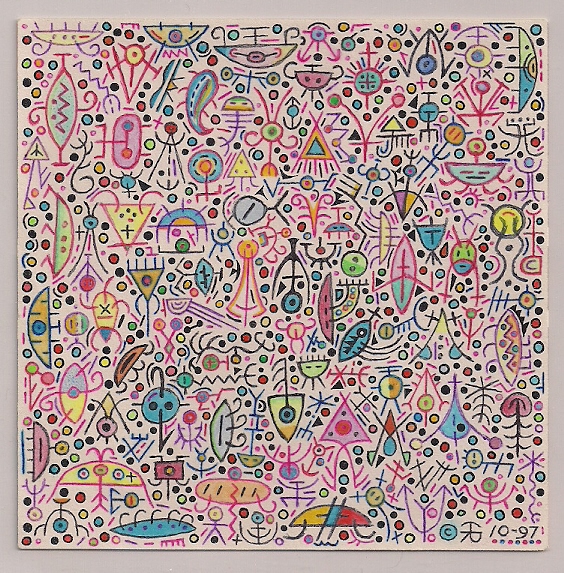 Copyright 2000--2018 by Tom Robinson
You may also view his amazing hand-drawn custom covers for Summer of Love and Tomorrow's Child.
Born in Los Angeles, Tom Robinson earned degrees in Fine Arts from the San Francisco Art Institute and the Academy of Art College, and a Graduate Jeweler's Degree from the Revere Academy of Jewelry Arts. He lives in the San Francisco Bay Area with his wife, Lisa Mason, the fantasy and science fiction author.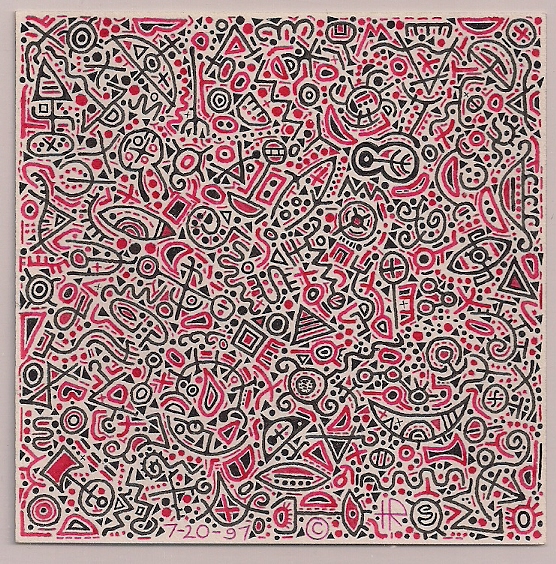 Copyright 2000-2018 by Tom Robinson
New Desktop Mobile for Sale!
Acrylic on wood, aluminum, brass. 17" X 17." $1,000.00 (or best offer).
Email your name, shipping address, and the piece you want to purchase to Tom Robinson.
Please note: All items are one-of-a-kind and subject to availability.
Set up your PayPal account at https://www.paypal.com/us/home.
Link your credit card or bank account, then follow the instructions on how to transfer a payment.
Send your payment to https://www.paypal.com/paypalme/lisamasonthewriter/
As soon PayPal notifies us your payment has been sent, we'll package your purchase and ship it to you the same business day.
Shipping and handling within the contiguous United States is free!
Art, Jewelry, and Mobiles by Tom Robinson
Lisa Mason, the Fantasy and Science Fiction Writer
Books by Lisa Mason
Stories, Novelettes, Screenplays by Lisa Mason
Interviews, Reviews, Storybundles, Blogs, Next Thing
Cats, Past and Present
Art © 2000—2018 by Tom Robinson.
Content © 2000—2018 by Lisa Mason.
All rights reserved. For further information, contact Lisa Mason or Tom Robinson.
For rights and publicity inquiries, please go to The Media Room.
Booksellers, Bookstores, Librarians, Libraries, and Book Distributors, please go to the Certified Reseller's Page.